NSo although we are deep into the summer heat, there are still a few weeks left of sun, sand, and our summer hair care routine. This week I had the awesome pleasure of joining Monifa Coffee, Editor in Chief of TXTURE Magazine, to the set of Sister Circle Live. For those of you who may not know, Sister Circle Live is a daily talk show tailored to African-American women on TV One network. Sister Circle Live has a panel of 4 beautiful hosts including radio host Rashan Ali, reality-tv star Mrs. Quad of Married to Medicine, Grammy-nominated singer Syleena Johnson, and the comic Kiana Dancie.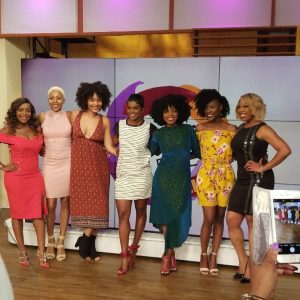 During the segment Monifa, along with three beautiful natural hair models, discussed some of the various summer hair care issues that naturalistas are faced with. So let's get into some of the great tips Monifa gave us!
Kinky Twists:
The first natural hair model (you can find her on IG @ulovearw) was rocking a cute Kinky Twists style by @iamruth_joseph_owner of @xpressyourkinshair. Adding hair into your kinky twist style is not only a great protective style option for the summer but year-round as well. We often forget how important it is to protect your hair prior to putting it into a protective style, and it is just as important to protect your tresses while you're rocking the protective style. Using products such as Fortify'd Naturals Intense Hydrating Potion while installing your kinky twists is a great start to keeping your hair healthy and hydrated. You can also incorporate a daily leave in such as the Fortify'd Naturals hydrating leave-in conditioner on a daily basis to keep your hair hydrated, moisturized and protected from the summer sun.
‍
Two Strand Twist Out:
Our second gorgeous model (check her out on IG @_cupidsway) showed us how to be confident in a Two Strand Twist Out. When rocking our natural curls many of us agree the bigger the better! A two strand twist out is a great summer style that can be easy to create and maintain with the right products. During the segment, Monifa discussed using products such as the SheaMoisture Red Palm Oil and Coconut Butter Styling Gelee and Pudding depending on your texture. This is a line that I have used myself and the added ingredient of flaxseed oil is used to elongate your curls in order to minimize shrinkage prone hair. All in all, a great solution when you want to showcase big summer hair. When asked how long a style like this may take Monifa explains that "The common misconception with natural hair is that it's a process. Now it can be if you're a product junkie, but you can wash condition and twist with a few products and then take the style down using just an oil". Using hair care lines such as those offered by SheaMoisture can be great for styles such as a Two Strand Twist Out because they offer products that can serve double duty to keep your stockpile to a minimum. Bottom line, don't be a product junkie if you don't want your process to be too overwhelming.
Bleached/Color-Treated Hair:
For those of us curly girls who want to jazz up our style with either highlights or full-on color, Monifa suggests that you hydrate your hair daily in order to protect the hair cuticle from the damage caused by the color. You can incorporate a daily hydration or moisturizer such as the SheaMoisture Coconut and Hibiscus Curl Enhancing Smoothie. This light hold cream can be used to restore the moisture that is often lost when we open our hair cuticle to apply the color and will add in shine without weighing down your hair. During the segment Monifa, along with model @amg_benzo, demonstrated using the Revitalizing Leave-In Conditioner by Jane Carter by spraying a few veils of mist and working it into the bleached hair. The ingredients that can be found in this leave-in, including humectants and aloe vera, are vital during the summer months to help the hair not only pull in moisture from the air but to also hold onto that added moisture. Summer months we stock up on SPF in order to protect our skin from the damaging effects of the sun, but we tend to forget to protect our hair from sun rays as well. After you lather on the sunscreen, take a moment to spritz your hair with a great daily leave-in prior to sun exposure. You can even throw on a turban or headwrap if you plan to be out when the sun is highest in the sky.
Txture Mag tips prior to the pool party:
Long gone are the days of swimming caps, but that doesn't mean the need to protect our tresses from the harmful effects of chlorine water are gone! I was so glad to hear during the Summer Hair Care Segment Monifa throw out some additional tips on how to care for our hair when we want to take a dip in the water. To start, it can be a challenge for our curls when we want to go swimming if we do not take the necessary precautions such as moisturizing. Monifa suggests that you "wet your hair and coat it with a hydrating conditioner prior to getting in the water". Let that initial step act as the swimming cap we know you aren't going to use! This pre-conditioning and moisturizing step will protect the hair against the salt water of the ocean (Santa Monica anyone?!) and the chlorine of the pool. Once you've soaked up all of the suns and sported that new two piece for all of the shore to see, the summer hair care doesn't stop there. Monifa suggests that you cowash, as soon as possible, once out of the water. You want to rinse the salt, chlorine, sand, and let's pray there's no seaweed out of your curls before they begin any damage such as irritating your scalp. After the cowash, you can again add a leave-in such as the Jane Carter Revitalizing Leave-In Conditioner.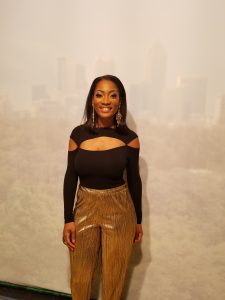 I had such an awesome time on the set of Sister Circle Live! The hosts kept the laughs coming and all the guests seemed to enjoy themselves as well. It was a pleasure catching all of the BTS for Txture Mag and watching Monifa in her element. I even got a chance to chat it up with Erica Dixon a prior cast member of Love & Hip Hop: Atlanta, TV Personality, and now add onto that resume fashion designer and author about her transitioning her own tresses! Erica states she is having the hardest time finding the right products so I threw out a few suggestions, with technique of course being the most important. If any of you are also having trouble with transitioning don't hesitate to reach out to me via the "Work with Me" tab on my website! I would love to help you get started on your own hair care journey where we can chat curls, love, and life! Xo